Monday, July 20, 2015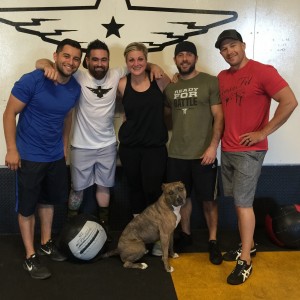 Congrats to Laura G on member of the month. Laura is an always inspirational member, always coachable, and is constantly sharing her enthusiasm for our program with others. She has consistently battled her demons with us for almost 3 years now, and we are proud of her efforts.
Where are you from, and what did you want to be when you grew up?
I was born and raised in Sacramento…River Park, to be exact. In fact, I loved growing up in this quaint little neighborhood and had so many awesome memories growing up there (from going to school at Caleb Greenwood from Kindergarten thru 8th Grade, to spending countless hours at Civarella Field with my family, as the quintessential "Baseball Family") that, after I graduated from SDSU in 2005, I moved back home to live with my parents until I was able to save up enough money to buy my own house at 26 years old on the same block as them! The whole same block thing wasn't planned…it just worked out that way. Fortunately, we can't see each other from our front porches (they're on one end of the block, while I'm across Carlson on the other end), but for the first couple of years my dad was my gardener and dog runner, and my parent's pantry has served as a grocery store to us on a number of occasions, so I really can't complain.  I LOVE River Park! It's home. As far as what I wanted to be when I grew up…in 4th grade I vividly remember wanting to be a Marine Biologist…because I loved watching the whales and dolphins at Sea World and "Free Willy" was a popular movie around that time. Oh, the innocence.  Once I discovered, however, that I would have to be good at and like math and science, that "dream" went out the window. Through college I thought about using the BA degree I was on track to earn (and eventually did) in Women's Studies (with a minor in History) and teach at the high school level. But, I got burnt out on school all together, that the thought of going back for my Credentials or attending high school again (even as a teacher), was not something I was into, so I pushed that idea to the side. My honest answer now is…I have no idea what I want to be when I grow up. I've always loved writing (even though I'm a "comma whore" which you'll discover here and can be rather long winded…again, sorry in advance if you choose to read on), and thought of writing a book, but that's something you have to be in the mood for, and I just haven't reached that place yet. In the meantime, I currently work part-time at one of two of my family's businesses, Sacramento Valley Alarm Security Systems, Inc. as a "gopher," doing whatever needs to be done in the office and running errands where need be. On the days that I'm not there, I'm working for my cousin at her wedding planning and rentals business, Simple Country Weddings and Vintage Décor. Shameless plug for both… www.sacalarm.com and www.simplecountryweddings.com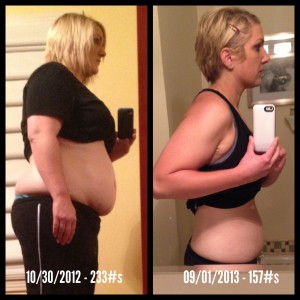 When did your fitness journey begin?
I can't remember a time when I haven't been dieting in some way. I have what a lot of people, especially those in the world of fitness, and those whom are just naturally skinny or have high metabolisms don't understand or have trouble comprehending…I have an addiction to food. There are times where I just can't stop eating.
It was the fall of 2012, with the year anniversary of when "the shit hit the fan" was quickly approaching, that I decided to take charge of myself and my health. For several years prior to this time (but mostly, just the last two) I invested all of my time, energy, concern, care and whole heart in the goings-on of my alcoholic brother. Him being four years older than myself, we grew up close and there was even a time I had referred to him as my best friend. He had the life that I always wanted for myself…he was married, had two adorable kids, a beautiful home and had a job that he liked and was good at. He's had a drinking problem since he was in his early teens, but once his wife caught on and my parents came to the realization as to just how bad he was, things for him went downhill…fast. I wanted nothing more than to fix him. I wanted to cure him; make him better. I wanted his marriage to work and I wanted his kids to know what it was like to have a sober father. I wanted him to show up to work and be the amazing, knowledgeable person I believed he could be. I wanted him to get his shit together and realize, that at his own admission, he had everything he ever wanted.
It was this same time period that my family's business (for whom both my brother and I work for) was going through some major changes. We decided, after 35 years, that it was best for the division of our company that ran 24/7/365, to close at our office, and transfer such services to another, local location. On the surface it doesn't sound like this would be a complicated or stressful task, but the computer operating system we used in our office was entirely different than what was used at the new location (think dos vs. Windows), which meant we had to do a complete overhaul of transferring our data and approximately forty phone lines (have you ever dealt with the telephone company?!) so that things would continue to run properly, with no interruption of service. And the data that we were transferring had to do with burglar and fire alarms, so there was no room for any type of error, as people's lives and property were at stake if any mess-ups occurred. To top it off, we had about nine employees that we would have to lay-off once this transfer was complete. Through it all, my brother, who was supposed to be helping with the transfer, was MIA. He was too busy running around town, going from bar to bar, trying to find where he would get his next buzz, without getting caught by anyone who would possibly dare confront him on what the hell he was doing on company time. I was left to go through the data myself (which consisted of nearly 8,000 accounts at a minimum of 3 pages each), receiving help by the only two decent employees (amazing girls, really!) we planned on holding onto, post transfer. We did all the work, while he got all the glory…of doing nothing. The stress that mounted up with work and my brother's antics became too much for me to contend with. I was in a constant state of worry and found myself trying to function on little, to no sleep. I was single and lived alone, so I had no one to confide in. I was forced to find peace of mind somehow, so I turned to the only thing that I felt I could control at the time…food.
I used food as a source of comfort and stress relief. Which, let's be honest, was NOT an abnormal response for myself, by any means. I've always been "the big girl" in my group of friends. Fast food, starches, ice-cream by the gallons; anything quick, fatty and easily accessible, were my means of dealing with EVERYTHING. If something good happened, it was cause to celebrate by ordering half the menu. If something bad happened, then it was an excuse to eat away my sorrows. Happy, sad, stressed out, bored, overjoyed, overwhelmed…my answer was always…"let's eat." I've attempted more gimmicky diets and fad exercises (Billy Blanks' Tae Bo, anyone?), than you could even imagine. I'd do relatively ok for a while, but I was never successful for long. Plus, I always felt like whatever I did try that I had little to no support from the people that mattered most to me. It felt as if they were just waiting for me to toss in the towel and fail, yet again. My brother's addiction turned him to the bottle, while mine turned me to the fridge. The problem became a greater issue once this over eating, binging lifestyle I was leading became coupled with my newly acquired "fuck-it" attitude. I simply didn't care enough about myself, so I kept shoveling in, any and all food I could get my hands on (HELLO, food addiction!). As a result, it led me to gain 30 pounds in a year. In the end of it (or should I say, the start of it?), I, at 30 years old, 5'6" tall, ballooned up to a size 18 (which was really probably larger, but I refused to shop for clothes outside of the teens) weighed in at my heaviest weight ever, of 233 pounds. With heart disease, diabetes, high blood pressure and cancer on both sides of my family, my being this overweight at such a young age, was only setting myself up for early on-set health issues. Immediate action needed to be taken. But, I knew everyone's main concern was for my brother and our family business, so at the time, I didn't feel I could ask for help. There was enough going on without me whining about my weight. I looked into things that I could do that would be drastic, but non-invasive. My research led me to Kaiser's Medical Weight Management Program (MWM).
After getting approved for the program by way of blood work, an EKG and overall medical evaluation, I entered my first MWM class on October 30, 2012. The following week, on November 7th I began phase one of the program…a 105 day fast. My daily meals consisted of 5 juice box sized, protein packed chocolate flavored drinks, one protein enriched granola bar, water, and endless sugar free gum. That's it. I was allowed coffee, but I was such a Starbucks fanatic, that coffee really didn't do anything for me anymore, except empty my wallet, so I cut myself off from it completely, as well. I figured if I was going to do a whole body cleanse, I might as well go for it full force. I went from being on an undetermined, eat whatever, whenever I want diet of fats, carbs and sugars, to a 960 calorie a day shocker! I instantly started sleeping better and felt more rested and relaxed. The protein in the products cut my hunger cravings to almost nothing. And as I started to feel better about myself, I began a new outlook on the things going on around me. It became less about what everybody else was doing (mainly, my brother), and more about focusing on me. The fast took about two weeks to really get used to, but I stuck to it the entire 105 days…through Thanksgiving, Christmas, our annual family Christmas Party (with a dessert bar that I made everything for), New Years, work potlucks, my birthday, a trip to Disneyland…not cheating once! I remember reading up on the program that the average weight loss that was expected for people to obtain at the end of the entire program (18 months), was 50 pounds. I decided to set a goal for myself, that because I had my age on my side, and because the program doctor said that I was "perfectly healthy, just fat," that I would lose my overall expected average 50 pounds by the time the 105 day fast was over. On February 19, 2013, the day before I was allowed to eat "human food" again, I logged a weight loss of -51 pounds, thus making me realize even more that I could do what I set out to do, if I just put in the effort to achieve it.
It was at week 14 of my MWM fast (January 24, 2013, to be exact), that I met up with Chris, here, at CrossFit East Sac for a consultation. I knew that partaking in another drastic measure was necessary for me to continue with the success I had up until that point, so that I could continue to have REALISTIC SUCCESS after the fasting phase was over. I'll be honest…Chris kicked my ass that night. I don't think that was necessarily his intentions, but I was so out of shape (even though I had lost 41.8 pounds up until that point), that any extensive exercise was a killer! I was exhausted, sore, sweating like a pig, on the potential verge of upchucking my earlier meal (which, on 960 calories a day, I couldn't afford to lose any of them!), plus I had been stagnant for so long, all I did on a regular basis was walk my dogs at the river or around the neighborhood. Yet, I knew, that CrossFit was going to be the answer I was looking for. The endorphins quickly clicked in, and I signed up for On-Ramp sessions that night, scheduling my first two rounds for the following week (knowing I was going to need at least a handful of days to get the pain to subside and me to be able to walk again, post consultation workout). I knew that if I waited, and had time to think about it, I'd manage to talk myself out of joining, so it was a "here's my credit card, do it now" kind of thing.
Not once have I regretted joining CFES/Aquila!! Aaron and Josh tag teamed my On-Ramp sessions, helping me and guiding me through the fundamentals in four weeks time. I remember my first session with Josh…he had me do my very first WOD, of Run 200 meters, 15/12/9 of goblet squats (18#), knee push-ups and jumping pull-ups, bookended with another 200 meter run. First off…at this point in time…I HATED running. Detested it, even. Push-ups and I have never gotten along, no matter how formatted for my (in)abilities they were. Pull-ups or anything of the sort, were never something I attempted because I couldn't even hold onto the bar long enough to try and pull myself up. Plus, to top it off, I was still a little wobbly from the previous week's consultation with Chris. I was embarrassed, knowing that my completion time was going to be way above an average expected completed time would be. But, nevertheless, with Josh encouraging me the whole way…I did it. I logged my finished time as 18:50. Obviously, I had room for improvement, and regardless of how horrible I felt my time was, I was ready and eager to return for my next session (albeit, a little sore, having just used muscles I failed to know I had). What's even cooler about remembering my first WOD, is remembering my last WOD of my On-Ramp sessions, only this time, it was with Aaron. Last WOD was the exact same as the first. And while I went into it worrying that I wasn't going to better my time by much, I nearly squashed it in half…final time…10:19. It was at this point that I realized that if I was going to continue to succeed at CrossFit, with my weight loss goals, or really, anything in life, that I need to simply only compare myself, to myself. Everything needed to be measured on one scale…mine.
Having successfully transitioned from the fasting phase of the MWM program to eating normal food and proper portions, consistently attending CrossFit classes 3 times per week, and having picked up running (I was doing two miles a day, at least 3 days a week, with the occasional 5K or 10K race thrown in on the weekends), I had managed to reach my lowest weight I've ever recorded on a scale as an adult or otherwise of 157 pounds…giving me a total weight loss of -76 pounds by September 2013. I've NEVER publically announced my starting weight nor have I ever shown these pictures to anyone (except for my boyfriend), but I figured sharing them now in this format will help to light a little fire under my ass to get back to this weight and, possibly, go further with my weight loss and muscle gain transformation.
So, here I am a little over 2.5 years later after that initial consultation workout, and I couldn't be happier with how far I've come! For a LONG time AO has tried to get me to make it my personal goal to attend WODs 5 days a week, and up until the Open of this year, did I finally cave. And, as much as it pains me to admit he was right, my attending classes 5 to 6 times a week has paid off in so many ways! I have gained some weight back from eating (it's a perpetual cycle that I get caught up in. I know my triggers, situations and people, and I try my best to stay away from them, but shit happens), and from muscle gain (that I'm SUPER stoked about!), but I haven't been deterred from still keeping on my path of change, improvement and overall self acceptance. Also, following AO's persistence, I've stepped up my food intake game by taking on The Zone. I'm two months in with following it to the best of my understanding and have lost around 17#s. I've also noticed a lot of strength gained, so even if the fat isn't necessarily ridding itself from my body, so long as it's turning into muscle, I'm good.
How do you find so much inspiration at THIS gym?
A partial answer to this question can be derived from the above essay I just wrote.  Another aspect would be the people. Due to my work schedule changing recently, I've had the opportunity to work out at all times of the day, so I've managed to bump into and workout alongside pretty much just about everyone. And without a doubt, each member has inspired me in their own gainz they've made, no matter how big or small. Just seeing people show up to class is inspiring! Everyone has a goal for themselves, and they are all here trying their best to reach it. There are never mess ups, only situations of learning and forward progress. The cheers and high-fives given amongst members and even the positive self talk and grunts of strength, is awe inspiring. I love that everyone comes together. And I love that there are no mirrors! It's a vain, body issue thing to love to not have at a gym, but realistically, they are not needed to feel confidence in such an environment.
What is your favorite type of WOD/lift?
My FAVORITE movement…which I know a lot of people hate…but it's a GREAT stress reliever for me, is sledge hammer slams! Ooh, and rope slams.  Any chipper WOD, I get excited for. I like the fast pace of it all, and I feel like I get a better workout . As far as lifts go, I prefer the split-jerk only because I feel like I can securely get myself under the bar in a safe, quick manner. Push press, strict press and bench press are also new favorites, since my upper body strength required for such lifts has improved so much recently. I chase a PR in those lifts each time they are programmed. Well, I chase a PR in every lift programmed, but those ones are progressing quickly, so it's a fun race to run.
Let's be real. What is your LEAST favorite movement?
Oh dear. Well, I'm still yet to get a damn pull-up, and rope climbs, by default are non-existent in my skill set. So any WOD involving those movements bums me out since I can't go for the Rx version that day. The AirDyne is stupid, and wall balls SUCK…but I'll still do both, should they be required to do. The one lift I detest is thrusters! Ugh! Whatever asshole decided to combine a squat and a push press in one movement, should be shot. Oh the pain those things cause. Regardless of the lift, however, I still have a LOT of improvement to do on ALL of them. My mobility needs improvement, and my posture SUCKS (again, just ask AO)! But, I'm game to work on it and correct it each time.
When the WOD gets hard, what motivates you to keep going?
Counting! Say 4 rounds are prescribed, as soon as I complete the second round, I visualize myself on the downward slope and tell myself that if I've come this far, I can finish the final two rounds without keeling over. Plus, I focus on me. I completely ignore the round or work that others are doing (unless of course, we are doing a partner WOD), and focus on my performance. With that said though, I always check Wodify prior to my class time to see what the other ladies are scoring, to see where I should be coming in around on my own score. It's competitive, but not. I use their scores as inspiration. Also, if either Alley or Greyson are at the gym, they typically hang out and wander aimlessly near me while I'm working out, in hopes that I'll be done soon, so to give them their after WOD treat. Having those sad puppy-dog eyes staring you down, will break anyone's heart and get you to move faster to get your workout over with to be able to make their day.
Name three of your upcoming fitness goals.
First and foremost, obviously…continue to lose weight. Being (perpetually) heavy, I've always wanted to be one of those people to say that they've lost a 100#s. That would mean I would need to hit 133#s. Because of the muscle mass that I have put on and plan to continue to put on, I realize that this goal may not be possible to be reached, but I'm good with that. I just want to reach a point where I feel amazing in my own skin, regardless of what the scale says. Secondly, as minute as it may be to so many people, I really want to be able to do a pull-up…kipping or strict… I. Don't. Care. To be able to participate in a WOD that has pull-ups programmed without having to scale them to jumping or banded, would be a great accomplishment for me. I'm already fully prepared to have torn, bloody hands; I just need it to happen. Lastly, and this one will be a while before I am physically able to participate fully (because of my capabilities) and to work up the courage to do so, but I wouldn't mind dabbling in a minor CF comp. You know, nothing serious, just a friendly comp to say I did it, and then move on…or get motivated to do more…whatever comes from it. J
Now name three of the MOST ANNOYING gym habits you witness.
Hmm…I don't really have any REAL annoyances, per se. I'm (self-diagnosed) OCD, and everything has its place. If bands are left dangling, the boxes are not stacked in the order that is drawn on the board above them, the kettle-bells are out of sync with their weight amounts, the AbMats are left out, the chalk buckets aren't back over where they belong, etc, etc, then I get a little kooky, and go into clean-up, organization mode. I don't really mind helping a member out by putting their stuff away if they are walking to the fence to cool down, so I'll do that as my means of cooling down post-WOD…that doesn't mean, however, everyone in my class just gets to leave their shit out, in an attempt to help me out with my cooling down process, though!  I always like to make sure the dogs' water bowl is full, and should the toilet paper in either of the bathrooms be rolling from the bottom and not over the top, I will fix it without issue. It just doesn't seem right otherwise. Again…OCD.
It's time to come clean. How many pairs of CrossFit shoes do you own?
HA! Love this! I'm just happy I wasn't asked how many pairs of shoes, period, I own…that would be downright embarrassing.  CrossFit shoes, alone…five. And that includes my lifting shoes. You see, one of the greatest things about CrossFit is the excuse to buy specifically designed shoes. And with all the color combinations, and the Reebok Outlet so close in Vacaville, I MUST buy as many as I can justify; and I have a really good knack for justification when it comes to shoes.
What is your current favorite inspirational quote?
"Some people will say you are going the wrong way, when it is simply a way of your own." – This is a loaded quote for me. So many times, even by people that I wouldn't expect to doubt me, have doubted my abilities to be successful in losing weight and keeping it off. Being a food addict, there is a lot of misunderstanding, too, as to how my outlook on weight loss and exercise is. I found this quote on a Hallmark card (seriously) 15 years or so ago, and I have it framed in my house and it sits on my corkboard at work, to remind me that I need to keep moving forward with my goals, to the best of my abilities, for myself, without worrying about the negative, non-understanding opinions of others.