Monday, March 7, 2016
This month's member of the month goes out to Shannon Kentera.  With a great enthusiasm for our program, Shannon has brought numerous friends from her nursing job into our community.  It is rare for an enthusiastic member to bring so many people in.  Most people's friends are scared or intimidated away from our little cult, but Shannon's results speak for themselves.  Big thanks for your evangelistic nature towards what we do and best wishes for your upcoming Cyclocross season!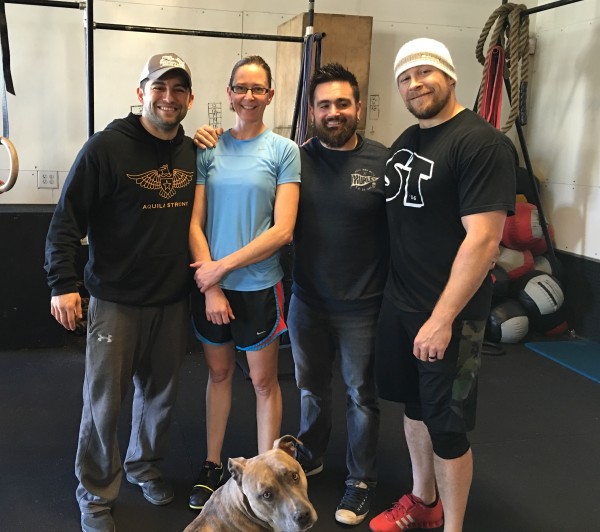 1. Where were you born and raised?
Born in Mountain View California. Raised in San Jose, and for most of my life Sacramento. I did leave California while going to undergrad, but haven't left Calif since returning.
2. What did you want to be when you "grew up?" And what is your current day job?
I wanted to be a nurse when I grew up. It took me a very long time to grow up, but then I became a nurse. After about 10 yrs I went back to grad school to study anesthesia and today I am a nurse anesthetist at Kaiser South Sac.
3. We heard you like to ride bikes. Is that true?
Not true, I LOVE to ride bikes. I have 8 of them, turns out they are mood dependent. I have been riding and racing mostly dirt bikes since I was 16. Thanks to CrossFit and AO I started racing again last year and killed it in the local Sacramento Cyclocross Series.
4. Why did you decide to become a member here?
I had a sort of midlife crisis. I have been active my whole life, but getting older and putting my health second during grad school did me no favors. I was so tired of going to the gym for an average workout or going for another run. I was basically unable to race my bike without coming in last place. I needed something new and something to challenge me. I needed to take care of myself and not wait for anyone to do it for me or with me. I heard about CrossFit and got the courage to give it a shot. As most of us know it can be intimidating to walk in our box and see the amazing athletes and not think to yourself "I don't belong here" but I stuck with it and of course everyone is so cool and I started seeing gains. I quickly became addicted. The gains took a while, but I quickly became addicted to the positive and energetic environment.
5. What is your most noticeable change since becoming a member here?
I have core strength now and it makes me better, faster, and stronger at all the other stuff I do. I ride faster and I run faster. My 5k and 10k times are what they were in my 20's and that was a long time ago!
6. Finish this sentence, "When I reach up to the pull-up bars, I think…"
Oh man my calluses are gonna break again and I don't want to get blood on the bar or my clothes. Interestingly, pull ups are the least of my nemesis at the box.
7. Are you participating in the Open? Why?
Not this year. I have in the years past and have a lot of fun doing it. This year I am out of town quite bit with work and play for the first two weeks so I decided to not participate knowing I may not be able to complete what I start. Next year I will likely participate, it is a lot of fun. Of course I do the scaled version, but super fun.
8. Do you have any goals for the upcoming year?
I am moving up a class in my cyclocross racing this coming year which doubles the length/times of my races. I am hoping to gain strength and of course work on some endurance to get me through almost an hour of racing at top speeds. I train with AO once a week to work on strength which helps with my goals and I will continue to do that. I also will likely be attending more CrossFit classes during the week and Saturdays to up my game a bit before the season starts.
9. So tell us, what did you say to your friends to get them to join CFES?
Well I say it a little nicer than this, but basically "why are you wasting your time with that"? When I think of where I was 3 yrs ago and where I am today, I am completely convinced we got a good thing going on here. The beauty of it is you can do it everyday and still work full time, ride your bike, run races, and even party on occasion. It's simple, big gains in the least amount of time and it is super fun no matter what type of athlete you happen to be. CrossFit makes you better at everything. Oh, and you will look good naked.
10. Why would anyone like AO?
I didn't think anyone except me does like him. AO is awesome and there are too many reasons to list here. I went to undergrad about 5 miles from his home town in Kansas City Missouri so we have that in common. He is a little OCD so we have that too. Mostly though he helps me kill it at lifting and not only reach but surpass my goals and we have fun doing it. Thanks AO!!