Wednesday, May 24, 2017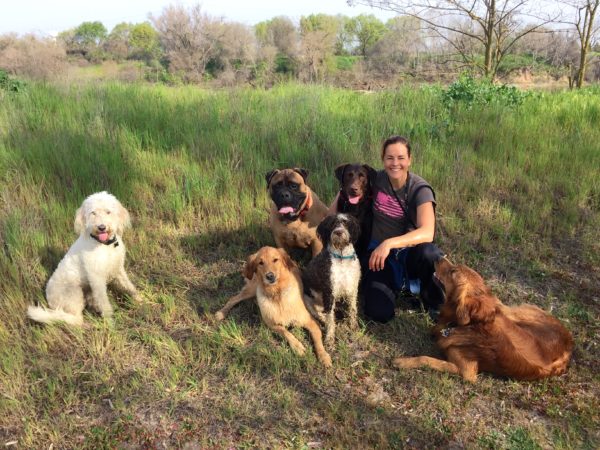 I am currently the only dog walking business providing off leash adventures on the river. Probably because off leash dogs are not legal at the river and I'm the only one crazy enough to walk six dogs at a time. How does one learn this skill you ask? I am completely self taught and I've watched every episode of the Dog Whisperer with Cesar Millan. I am totally qualified! While this is all true, I have now spent over six years honing my skills and logged thousands of hours out with the dogs. Malcom Gladwell wrote about the "10,000 hour rule". It takes 10,000 hours to achieve mastery in any given field.  I'm getting close folks, very close to achieving pack leader mastery in off-leash dog walking. There should be a certificate for these things!
In 2010, I had been a police officer for 12 years. We were planning to have our first child and I desperately wanted to be present when we raised our babies. I took our dog out to the river often and looked online for someone who could hike with her when I was at work. None of the local dog walkers offered this service. The idea for off-leash adventures and the call of the outdoors took hold and never let go. I borrowed my friends dogs, I scouted river accesses and trails, removed fish hooks, avoided rattle snakes, had all the dogs jump out of the truck on me…it was regularly a three ring circus for the first year. I thought, "No wonder no one is doing this; I must be insane." Thankfully I am a little nuts and when our first daughter was born in 2012, I quit my very secure career (pension and all). I have never been happier, even when one of the dogs rolls in dead fish.
Today we are a legit service. I hired my first employee this year (thank you Ballas for the background check!). We offer daily pack hikes at the river rain or shine, Monday through Friday. We can also do weekends with a little notice and I am able to board well behaved dogs in our home. When your dog becomes a pack member, you are considered family to us. Check out our website and like our Facebook. Come run with the pack!