Wednesday, June 7, 2017
David is coming up on his 1 year Aquila anniversary in July.  After seeing his outstanding results form the Nutrition Overhaul, I asked him to do a write up on his experience there and a full testimonial as well.  We are super proud of this guy and honored to be a part of helping him transform not only his body but his lifestyle.  Thank you David for your persistent effort and coachability, you freakin' rock dude!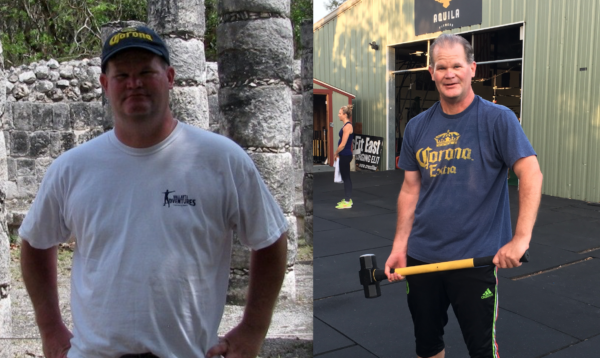 Washed up David Beckham Needed Help
Of course I am merely a David Beckham wanna be. I have neither his money nor looks, but I was a soccer player. I have been a soccer fan my whole life and have played just about as long. The last 5 years have been rough. As I got older my injury level seemed to increase, and 3 years ago it climaxed when I busted my ankle playing indoor.
I realized that the injuries stemmed from a lack of general fitness, and carrying too much extra weight.  I really wasn't willing to correct the problem, so I decided it was time to hang up the cleats. The next couple of years I did nothing and actually found myself depressed. Work was getting to me and I was really not enjoying myself. Then a met a girl that changed my life, and I decided that I needed to get into shape. I started going to 24 hour fitness and thought it would be my answer but quickly realized it wasn't. There was no social interaction, I wasn't really sure I was using the machines correctly, and overall everything about it just felt wrong. The answer at the gym was to get a personal trainer. I had watched some of the personal trainers at the gym, and I really wasn't impressed. They seem really uninterested in their clients. I decided I needed something different.
In July 2016 at the age of 50, some prodding and a Google search turned up Aquila Fitness. So, I signed up for the free intro, met Justin, came home and thought to myself, "what the hell have I got myself into." I survived CrossFit 101 and made way into the GPP program. After a couple of weeks of GPP, I realized not only could I do this, but I loved it. This was the best thing I had done for myself. I was getting in much better shape, I loved the coaches, and the members were actually talking to each other. It was like a family, and it was exactly what I had been looking for. As I progressed, in class they added another challenge…the Nutrition Overhaul.
Through fitness and nutritional development, Aquila has changed my life. In the last 4 months, my weight has gone from 209 to 195, and my body fat was dropped from 19.4 to 14.8 plus I am becoming stronger. I've lost about 20lbs total in 10 months, with around a 35lb total fat loss and a gain of about 15lbs of lean muscle.  I sleep better, have more energy and generally feel much better, plus I seem to set new personal records each week. I am in better shape, I feel better, I look better, and I am a much happier person. I get complements about my appearance from family and friends, co-workers, and gym members and it just ads to my enjoyment.
Joining this gym is the best thing I have done for myself in my adult life. I would highly recommend it to anyone, who like me, just wants to look better than most of their friends. The coaches here are the best coaches I have ever worked with. I cannot thank them enough for their support and guidance. Aquila is my gym family now, and I am so thankful for the support I get from fellow members. If you are reading this and on the fence about how to re-vitalize yourself, do yourself a favor and give Aquila a try. Do not get me wrong… learning CrossFit and changing nutritional habits are not easy, but if I can do it, you can too and it will be best thing you have ever done for yourself.