Monday, October 16, 2017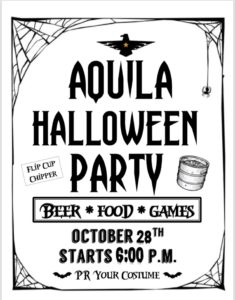 We are knee deep into Halloween month, which means our annual…and always, epic… "Aquila Halloween Party" is right around the corner!
Mark your calendars for SATURDAY, OCTOBER 28th!! The festivities will kick off at 6pm at the gym. We'll have beer, food, and games…drinking games, and otherwise. And don't forget to PR your costume!! Feel free to bring anything (food or drink) you'd like for yourself or to share, to add with what will be provided.
If you have any questions regarding the "Aquila Halloween Party," feel free to post to comments.
THANKSGIVING DAY – RUN TO FEED THE HUNGRY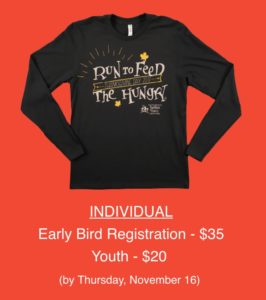 Every year we organize a team for the annual "Run To Feed The Hungry." But because we never actually take advantage of all the extra perks that we pay for with this team registration…since we always host our own pre and post run mimosa/coffee/pastry event at the gym, and take our own group picture…we decided, this year, to just have everyone register as individuals for race day.
As of right now "Early Bird Registration" is still available until November 16th, with Adults being $35 each and youth (17 and under) as $20 each.. Prices go up November 17th, and again on Race Day, should you choose to wait to the very last minute to register.
Soooo…. head on over to http://www.runtofeedthehungry.com/ and register TODAY!
Please note, that because everyone will register on their own, you will be required to pick up your own race packet from REI of Sacramento when it's time to do so (rather than pick it up from the gym the week before like you have in the past). The instructions, dates and times regarding this will appear when you go to register at the link above. There is also an option to have your packet shipped to you, should that fit your schedule better. Just pay attention at checkout to take advantage of this feature.
And…as always…we will still, of course, have the gym open the morning of Thanksgiving prior to, during and after the race for everyone to come by and hangout….even if you're not participating in any aspect of the actual race. Our usual spread will be available for you to fuel yourself on and help get you ready for the rest of the day you may have planned.
Morning gathering on Thanksgiving will be at Porchlight Brewery across the street form the gym.  Come grab some AM beers with us!
If you have any questions regarding the "Run To Feed The Hungry," please feel free to post to comments or ask Laura G. directly.