Sunday, November 19, 2017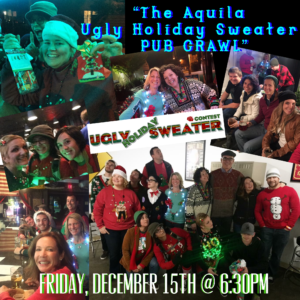 Whether you like it or not, or are ready for it or not…the HOLIDAYS are upon us. SO…mark off your calendar NOW, because you are NOT going to want to miss out on this Aquila social event!!
Starting at 6:30pm on FRIDAY, DECEMBER 15th plan on being decked out in your best, WORST Ugly Holiday Sweater as we embark on "The Aquila Ugly Holiday Sweater PUB CRAWL" around downtown Sacramento!
We will begin our tour (that we'll make up as we go along) at Kupros Craft House at 1217 21st Street.
As voted on by those in attendance…the BEST/WORST Ugly Sweater WINS!!
What will you win?!? … You'll have to dress up and show up to find out!
Some things to keep in mind in an attempt to help you plan a fun evening ahead…
• Regardless of the weather (rain or shine), it's game on!
• Whatever you choose (or not choose) to drink or eat throughout the evening, is on you.
• Make sure to wear shoes that are comfortable for you to walk around in.
• PLEASE plan your transportation! Take advantage of LYFT, Uber, or a sober friend or family member and catch ride home for the evening.
• Feel free to bring along any 21+ year olds you wouldn't mind spending a little Holiday season celebration, night out on the town with!
• And most importantly…don't forget those Ugly Sweaters!**
Any questions, etc. can be asked in the comments below, or feel free to get ahold of Laura Goulding in person or otherwise.
**You do NOT have to wear an Ugly Holiday Sweater to join in on this event…it's just an added element to spice things up a bit and have a little fun.