About Aquila Fitness
Aquila Fitness was founded by Justin Riley and Travis Cassidy in 2008 and was the 341st over now over 15,000 CrossFit Affiliates. The founders came into CrossFit with extensive fitness backgrounds and are full time coach/gym owners. Our goal from day one has been to provide excellence in our movement teaching abilities, our program design, our facility, and our community. We specialize in making functional exercise training accessible and appropriate for all regardless of age, weight, injury or ability.
Aquila
Aquila, the thunderbird, is the pet eagle of Zeus. Aquila is ever by the side of his master, waiting to fetch and carry Zeus' thunderbolts that were used to punish his enemies.
What makes Aquila the perfect companion for Zeus is his protective nature and un-dying loyalty. What makes Aquila Fitness different from other gyms is our devotion and protective practices towards our members. It starts with proper technique. We are focused perfect movements and fine tuning form. Promoting safe mechanics helps you achieve the best results. Our loyalties to our members, to our training methods, and to teaching proper movement technique runs deep.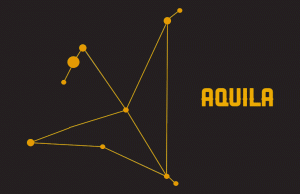 Because of Aquila's loyalty, the eagle was given a position among the stars as a constellation.
The constellation is made of of 10 stars, that also represent the 10 principles of Aquila Fitness:
Cardio, Stamina, Strength, Flexibility, Power, Speed, Coordination, Agility, Balance and Accuracy.