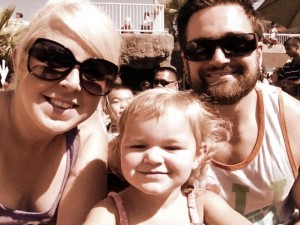 Travis Cassidy
(916) 425-1374
travis@crossfiteastsac.com
-CrossFit Level 1 Trainer
-CrossFit Powerlifting
-CrossFit Mobility
My name is Travis Cassidy, I'm a Sacramento native, born and raised.  I can remember being interested in working out and making muscles as early as 5 years old.  My dad used to lift weights at Ferrah Fitness in Del Paso heights; I believe its still there today.  Tony Ferrah used to let me do dumbbell press and curls with the littlest dumbbells they had there while my dad lifted, much to the horror of the others in the gym, but I wasn't bothering anyone, I was on a mission.  I kept up with basic noob kind of lifting intermittently, chins intermittently, (on a homemade chinning bar in my garage my dad made.) more curls, stuff that made me look strong.  If only I knew about power cleans back then…
Fast-forward 8 years.  A month before my 13th birthday I asked my dad for a gym membership for my birthday.  I was a small kid, about 5'2" at the time, and wanted to be strong and make myself big if I couldn't be tall.  So I joined a bodybuilding gym called Muscle System.  My first workout there with a trainer was legs, much to the amazement of the trainer; pro bodybuilder Kris Dim "usually guys your age want to do chest and arms first."  I was tired of my skinny legs.  I learned how to train like a body builder, and build a solid foundation and gained a lot of muscle.  Everyone noticed, it became an obsession of mine, something I could completely control, making myself bigger and stronger.  A year after I started there I was managing the gym on weekends, my first job.  Around this time I also began training in martial arts, kempo and muai thai kickboxing.  It was a great outlet for teenage anger.  I continued training in this fashion until I found my next love affair, football.
I was naturally gifted at football; my body building training had put me far ahead of most kids at that time.  Learning to squat, power clean, bench, and press made me more powerful and athletic than my previous routine.  I also noticed that training less, but with multi joint exercises made me gain weight, strength and power.  I was a better athlete than ever, and I was the workhorse of our team playing offense, defense, and special teams.  Basically I never left the field.  Unfortunately our squad wasn't great, but eventually the conference, and the city of Sacramento noticed me.   I earned second team all league running back honors in the Capital Athletic League, which was the toughest in Sacramento at the time (2001).  I was also offered the honor to play in the all-star game over the summer between the best athletes in the south area verses the best athletes in the north.  I've had the honor of being smashed by many guys who went on to play high level collegiate ball, and a few who are currently playing on Sundays in the NFL.  I received a little bit of interest from small schools recruiting me to play for them, but they were in places I didn't want to be, and at 5'7" 165, I wasn't disillusioned that I was college football material.  When football ended for me, it was as if a great love of my life left me, I was a bit lost, so I returned to what I knew best: bodybuilding.
Returning to bodybuilding passed the time, and gave me a purpose again.  I continued lifting through college, and when I graduated returned to my old stomping ground muscle system.    After graduating with a degree in psychology I realized that I was much happier doing what I loved for a living, I also realized that with all my experience, self taught knowledge paired with a little practical application learning, I could be a very good coach.  At that point I decided that after over ten years of training I was going to see how far I could take myself.  I also wanted to look the part of a personal trainer, show people what's possible if you really want something.  I entered my first competition, and after 20 weeks of dieting I was 4% body fat.  The day of the Capital City Natural Bodybuilding Championship I was in the best (looking) physical shape of my life, and won the lightweight title, as well as the overall title.
It was around this time that I began working at Arden Hills as a personal trainer and met Justin Riley who introduced me to CrossFit.  CrossFit was like meeting a long lost relative for me, it blended stuff from football training with gymnastics, and gave me a tremendous feeling of euphoria when I was done.   I felt immediately at home, and after a small identity crisis of not calling myself a "bodybuilder" anymore, I dove head first into this style of training and it made me more confident, stable, and happy with what I was doing than I had ever been before.  Not only did I look more powerful than I did as a bodybuilder, but I was also becoming more healthy than id ever been.  I realized that being healthy and being an athlete could be a parallel.  After 5 months of training I competed in my first CrossFit games, and took 27th, in the world.  (The world was much, much smaller at that time) a bit of a disappointment after being 16th the day before, but it was a great experience.  That was 2008; Justin and I opened our gym and began "preaching the gospel" of CrossFit as we saw it back then.  I have remained involved with CrossFit on the competitive side since, making it to the games as a team in 2009, 2010, and finishing in the top 4 in the northern California region in 2011, 2012, and 2013.
I am currently very interested in the sport of powerlifting, and strength sports in general.  I will continute to do CrossFit whether im competing or not for health and wellbeing for the rest of my life.  I live with my beautiful wife and daughter, and we are trying to be a fit healthy family.